The Tales
An Earth Day chat with Zungleboo founders
Apr 22, 2022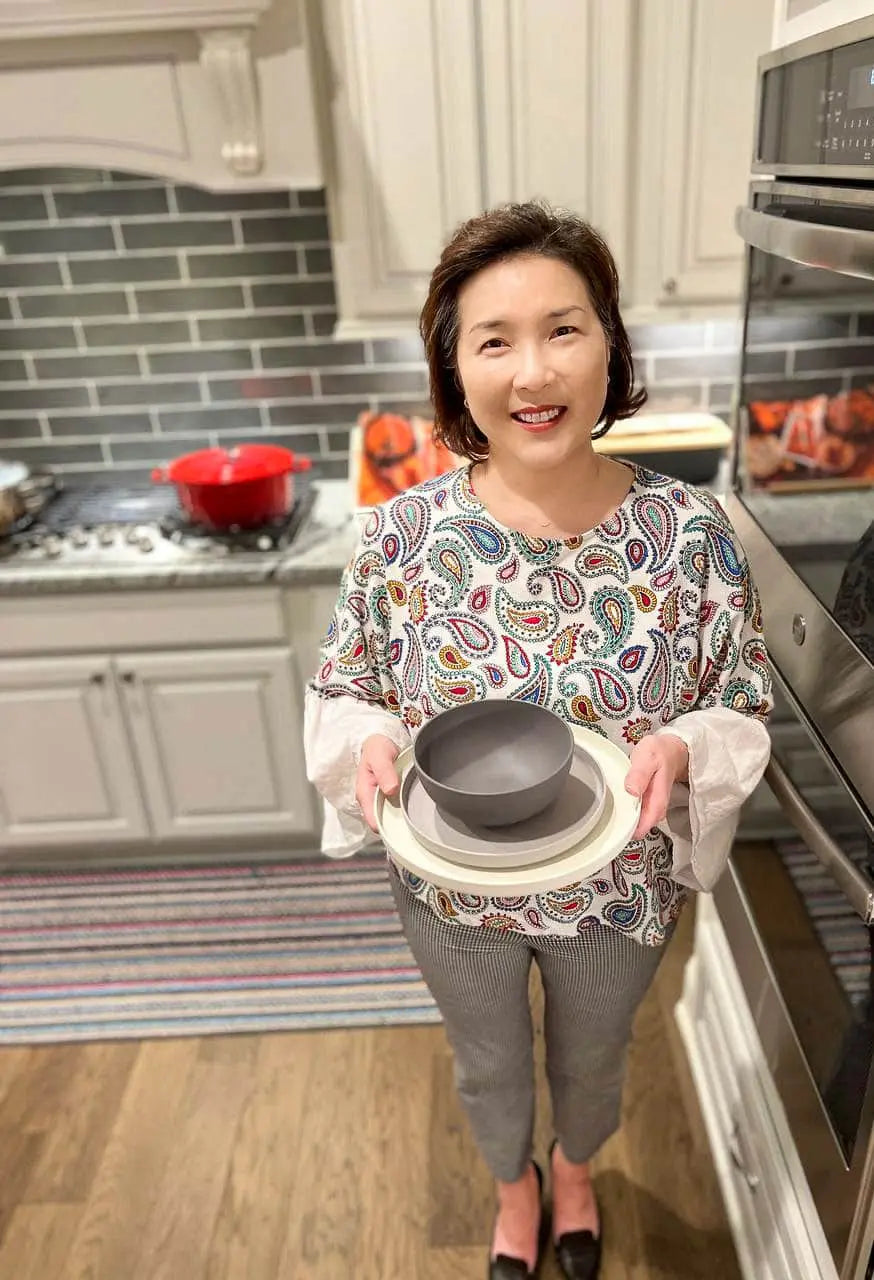 Since we're celebrating Earth Day, we wanted to do something a little different with the blog today. We sat down for some Q & A with Zungleboo founders Kay and Bonjoon for a discussion about starting a sustainable brand, why tableware and what they've learned along the way.
The couple comes at the business from two different angles. Bonjoon built a career as a business consultant with an analytical mind and is all about solving problems and discovering the right solutions. Kay, on the other hand, brings common-sense intuition and financial smarts from her career as a banker turned teacher and mother.
Q: What prompted you to start Zungleboo?
Kay:  We were at a stage of our life where we wanted to start something new together. After raising two kids and corporate careers that took us around the world, we wanted to build something together, just the two of us. 
We'd been thinking about it since coming to the U.S. eight years ago and when we became empty nesters, it was time to do our "next thing".
Of course, the challenge was what item or business model did we want to pursue. We really came at this with a blank slate.
I'd always gravitated to home décor and dinnerware and was always exploring Black Friday sales for new plates and bringing home new table settings. The knowledge I had developed and the interest I had in the category became the seeds for the company.
Another factor that played into the decision about tableware was my elbow. I had elbow surgery and big heavy stoneware plates were difficult for me to lift. That's what drove our focus on lightweight tableware.
But we didn't want to do the melamine plates with cartoon characters that we used with our kids when they were young. We wanted to do something stylish, practical and more sustainable.
Q: Have you always been interested in sustainability?
Bonjoon: After having worked around the world I had been noticing a lot of changes in industry and society. Awareness of climate change was on the rise and with it an increased demand for eco-friendly brands and services.
At Exxon Mobil and Samsung, I could see that big companies were making lots of efforts and innovations in the name of sustainability – though maybe not enough. Solar and wind were helping transition many of us off of fossil fuels, so there were developments in many industries to try to improve. But we didn't see a lot of movement in home goods and consumer products. Excessive use of single-use, plastic disposables is a huge problem. 
All that said, we're also pragmatic enough to understand that big shifts in consumer behavior overnight aren't likely. We need to identify the small steps that each household can take and help them take those steps.
So, yes, sustainability has become increasingly important to us and we wanted to incorporate that into our business. And as we did our research, we realized that there weren't many options for reusable, practical eco-friendly plates in the U.S. – especially ones that looked great on the dinner table. We felt like there was a market that would continue to grow.
From the start, our mantra has been "Kinder (eco-friendly), Safer (shatterproof, food contact safe), Easier (easy to use, microwavable dishwasher safe)" and after much research we landed on PLA, or plant-based bio-plastic as the answer that checked all the boxes.
Q: The name is unique. Where did it come from?
Kay: Anybody who has done brand or product naming knows it's hard. Finding something unique and compelling that wasn't already trademarked is challenging.
Zungleboo is an amalgamation of a lot of things.
We knew our business model was going to lead with e-commerce and knew that online commerce was literally a jungle (hello Amazon!). So, we started there but couldn't trademark "jungle".
"Boo" comes from a nickname we had for our daughter when she was younger. She wore pigtails like the character, Boo, in Monsters, Inc.
In the end, we landed on Zungleboo because it sounded fun and our company itself is called Zunglestore under which there may be many brands someday of which Zungleboo is just one.
Q: What surprised you as you were exploring starting a sustainable tableware company?
Kay: Our first surprise was that there wasn't a viable bio-plastic dinnerware product with a solid brand sold in the U.S. that were reusable, durable and stylish.
In other parts of the world, PLA is gaining in popularity as a sustainable alternative, but not here yet. We had to do a lot of research to find the right suppliers and set up that side of the business.
We've also received some surprising outreach. One very large corporation is looking into putting Zungleboo into all of its employee cafeterias and breakrooms. These companies have a new generation of employees for whom sustainability is a huge consideration and things like having sustainable plates instead of creating single-use waste make a difference.
Q: Tell me about some of the obstacles you have faced?
Bonjoon: One of our biggest obstacles is that people don't even know this type of products exists – but when we tell them, they love it.
We're creating a new category and launching a brand into a competitive market and that takes time, education, and resources. 
On the supply side some of the challenges are that biobased and plant-based sources are more expensive than petroleum-based materials and although there are new investment plans announced here in the US, significant manufacturing infrastructure is needed for PLA to lower the cost. We're hopeful that we'll see that infrastructure be built as demand for sustainable products increases.
Q: What other sustainable companies do you admire? Why?
Kay: There are several brands we've studied and tried to learn from.
The Earthling Co. makes personal care and cleaning products and they really bring to life how many plastic bottles we use in our daily life and provide products to help us make changes one at a time.
For anybody who has packed a lunch for school or work, Stasher is a great invention and will hopefully start to make inroads into reducing the use of plastic bags.
Plant-based meats are exploding and we're big fans of Beyond Meat. We think the flavor probably comes closest to real meat.
Q: What's next for Zungleboo?
Bonjoon: We are planning to introduce some select curated new products in the tableware space to complement our existing plates and bowls later in 2022.
We've also been asked by customers to expand geographically into Canada, Europe, UK, and Australia.
And finally, we've been gaining interest from culinary circles and the hospitality industry and we are considering expanding into restaurants as well as brick-and-mortar retail that fit with our brand philosophy.
We have big plans for Zungleboo, so keep us in mind and root for us to build a more sustainable future!